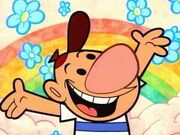 Billy is an extremely happy-go-lucky child with an IQ of -5. He has a pink, extremely large nose, wears a blue and white striped shirt and covers his orange hair with a red hat. He is often the cause of Mandy and Grim's mishaps since he orders Grim to do rather foolish acts with his scythe. Although generally good-natured, he has occasional fits of stubbornness, violence and rage. Billy is also terrified of clowns to the point of having recurring nightmares about them. He is also scared of spiders and other insects, which is quite unfortunate due to the fact that he has a "son" spider named Jeff. Billy wanted Grim for himself, due to he end up moving. Though he did not move.
Billy has seemed to inherit his father's stupidity he is also a nerd of the class. He is seen to have a friendship with Grim more of a dictatorship like with Mandy, he is usualy seen breaking the Fourth Wall an friendly at times .He made Grim wished he was smart and when he came home with an A + Things were turned upsidedown saying that it disrupted the natrual order. He is seen to die at times and is ressurected in the next episode he gets reacts normally to akward moments and is a sort of follower to Mandy out of fear and is known to have the catch phrase "destroy us all !"
Community content is available under
CC-BY-SA
unless otherwise noted.